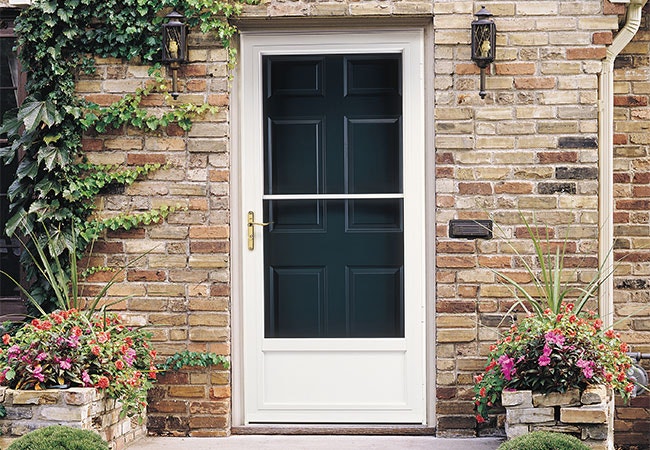 How to Measure for a New Storm Door
Take these steps to get precise measurements for a door that fits your home.
Adding a new storm door isn't just a popular DIY project, it is a great way to add more functionality to your entryway. Pella offers a variety of storm door styles to suit your needs. And when you select a storm door from Pella, you can trust they are built with the quality and craftsmanship that go into all of our products. Before you select a storm door from Lowe's, take these steps to get precise measurements for a door that fits your home.
Taking Precise Measurements
When you already have a doorway, there's no cutting involved. You want to take exact measurements to ensure the storm door you select is a precise fit.
There are only two measurements you need for a storm door – height and width. You'll actually want to measure each more than twice. Over time, houses settle and door frames can warp. The distance at the top of the opening may be different than at the bottom. To be precise, take three different measurements for each dimension – top, middle, and bottom for width and left, center, and right for height.
Make sure you're measuring from where the storm door will sit, not where your front door already is. For height, measure from the bottom of the threshold to the top. For width, measure from left to right inside the brick mold where the storm door will be mounted – not inside the door jamb.
After taking three measurements of each, jot down the narrowest width and shortest height. Now you have the size you need for your new storm door.
Checking for Potential Obstructions
Before you run off to your nearest Lowe's store or start shopping online for a storm door that fits your home, make sure you actually have room to mount it. A surface area one inch wide by one inch deep, and with a 90° angle, is required to correctly install a storm door. Measure the brick mold on your door frame to make sure you have enough room.
Take a look around your front entrance, too. You might spot some potential obstructions that could affect the installation or operation of a storm door. Look for handle or knob placement on the front door, outdoor lights, mailbox, doorbell, house numbers, or decor and design elements.
You can simply move decorations – even mailboxes – to ensure your storm door is easy to mount and open. But for permanent fixtures, you'll likely have to work around those. Choose the hinge side with the fewest obstacles so your door can swing open properly.
Finding the Right Size Storm Door at Lowe's
Most door openings are one of a handful of standard sizes. The selection of Pella storm doors at Lowe's break down into seven different sizes.
Don't see your storm door size here? Don't worry, custom sizes are available on all Pella products. When you place your order with a Lowe's project specialist, just provide the dimensions you measured and which side you want your hinges on. If you want your storm door handle on the left and to open to the right, specify right side. If you need your handle on the right and to open to the left, it's the left side.
Storm doors are pre-hung, which makes them one of the easier DIY home improvement projects that even beginners are confident enough to handle. Even if you have the experience and abilities to handle this project yourself, a second set of eyes never hurts. Take your measurements and a photo of your installation area into your nearest Lowe's store. A Lowe's project specialist can guide you through the selection process and provide an installation quote or recommendations.